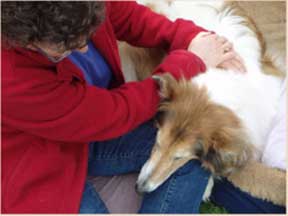 Have you ever experienced the relaxing and amazing results from energy work like Healing Touch® or Reiki? Your pets can also experience the holistic approach of energy work and intention.
This relaxing, nurturing energy therapy works with your pet's energy field to support his natural ability to heal. It is safe and works in harmony with (or without) standard medical care.
From wellness to injury and sickness, you can improve your pet's well being.
All species respond to the energy work, essential oils, and use of tuning forks.
Read stories about some amazing results.
Learn more about Healing Touch for Animals®
Not sure what your pet needs? Contact Elaine.
How can we help your beloved pet?
Healing Touch for Animals® Package $267
Preliminary discovery phone call or email
3 Healing Touch for Animals® sessions from distance or in person (plus mileage)
Each session includes suggestions and recommendations
All sessions must be used within 3 months.

Payment is due prior to session(s). Payment options available, please call for details. Mileage is included in the Minneapolis metropolitan area, and charged at $65 per hour if outside of it.