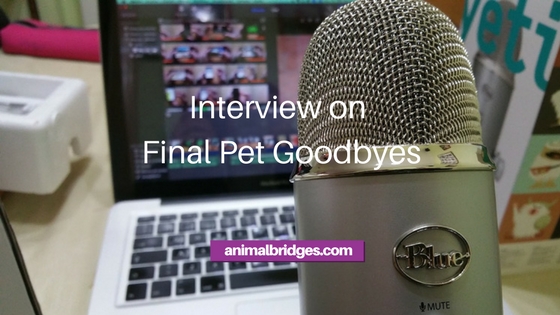 During "Final Pet Goodbyes: Navigating through Love, Loss and Grief," we discussed preparing for pet death, the grief, the guilt, and more. With an active discussion, we covered a lot of topics.

During the interview Cara and I discussed:
One listener helped her dog transition earlier in the day. I recommended the

article in the Washington Post

on pet death. It is discusses the pain from pet death and a relative's death.
My story on pet death and a relative's reaction.
Two clients' stories of grief and guilt and how animal communication helped them.
Then Cara asked for "other ways to navigate this process."
Pet's bucket/want to do list.
My story of Boomer's, my second Wheaten, requests and my promise.
Helpful links we discussed:
MN Pets provide at home pet hospice and home euthanasia (for Minneapolis/St. Paul area). The staff is very understanding and kind. Also provide grief support.

Joy Sessions

are beautiful end of life photograph sessions by professional photographers from around the world.
What to do with the ashes of loved ones? Kim Julen of Finding Your Fiji's blog  on this topic.
Suggestions for helping grieving pet parents:
My husband and I forced ourselves to continue our evening walks. It let us connect with the dog community in our neighborhood.
Check with your local Humane Society for support groups.
Grief is a physical process. Accept it and live with it. Do what is best for you.
Accept signs from your pet. Be open.
Is it time for another pet?
Ask your other pets if he/she wants another companion with an animal communication.
Follow your instincts. Often the previous pet is helping you find the perfect pet.
Client's story of a new pet coming into their life.
Listen to the wonderful hour plus discussion on "Final Pet Goodbyes: Navigating through Love, Loss and Grief." Let us help you prepare for your hardest decision as a pet parent.
Sign up for your free 15-minute consultation to get your question answered. I'll help you "bring out the best in your pet."