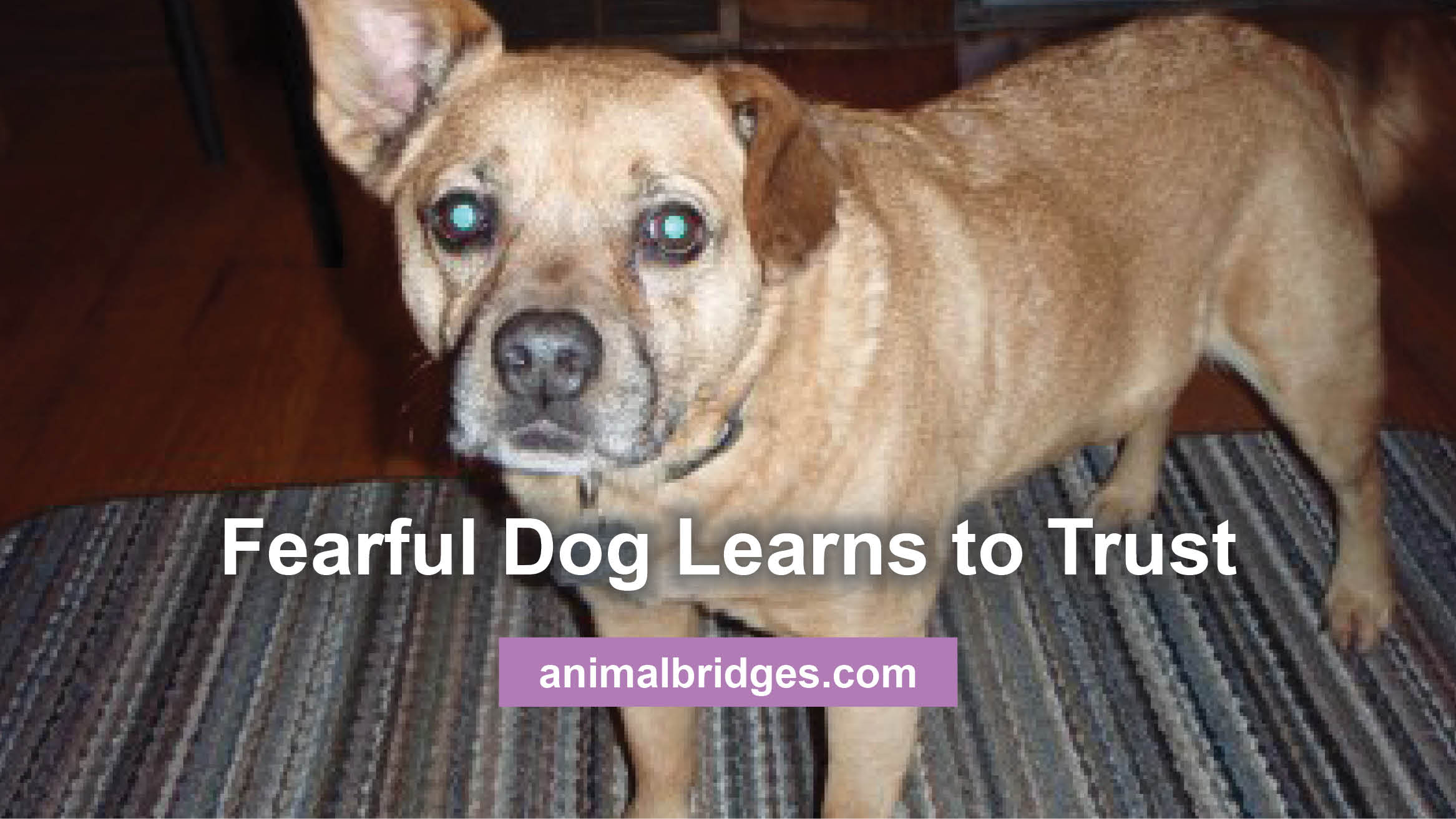 Read how a Fearful Dog Learns to Trust… Kaiser, an 11 year old dog, is very fearful of veterinarians. He loves his people and feels safe with them. Michelle, Kaiser's guardian and pet parent, saved him at 7 weeks old from being chained up. Michelle did all the right things at the time. She took Kaiser to training and realized the training method was not positive training. So she set out on her own to help Kaiser.
As time passed, Kaiser became very fearful of veterinarians. He snapped out a fear at one vet who then hung him by his leash. She changed vets. Ever since that event, Kaiser reacts terribly to vets. His recent vet visit resulted in him being muzzled, handled with heavy gloves, Michelle being told to leave the examining room, and Kaiser eliminating out of fear! This is when Michelle contacted me at Animal Bridges.

When I arrived at their house, I slowly entered and talked calmly to Kaiser. Michelle's boyfriend took their other dog out for a long walk so I could work with Kaiser. Kaiser loves people he knows and lets them all pet him. He won't let strangers or anyone trying to examine him come close or touch him. Since I was a new person in his life,  his face and body were tight with tension. Michelle said he was always on guard, watching and listening.

Since I could not touch Kaiser, I decided help him with Healing Touch for Animal® (HTA), a form of energy medicine with intention. I sat on the floor and threw treats to him. Then I started the HTA session. His Hara Line, the energy source of the body, was intact but weak. I checked his charkas and was surprised – all his chakras except the heart chakra were closed!
I slowly started the energy work with my hands about a foot away from him. For a while he paced and looked at me. He started to be calmer. I slowly moved my hand towards him and he quickly air snapped at me. I continued working with my hands away from his body. During the session, I told him he was loved and protected. His job was to relax at home and know he was safe. At the end of the session, he was more relaxed and all his chakras were wide open.
He came over to me and let me touch him! Slowly I did some TTouch® touches on his body. He then put his paws on my lap and kissed me. Michelle and I thought he looked like a different dog. When her boyfriend came back, his first words were "He looks like a different dog!" Kaiser greeted the boyfriend very differently and calmer.
Then I taught Michelle and her boyfriend several TTouch touches to help Kaiser. We agreed they would do the touches with him and the other dog.
Recently Michelle emailed me, "Kaiser has been coming up for TTouch in the evenings. It really calms him." She is continuing with the TTouches as we plan for another session.
This is the beginning of Kaiser's journey of learning to trust and think rather than react.