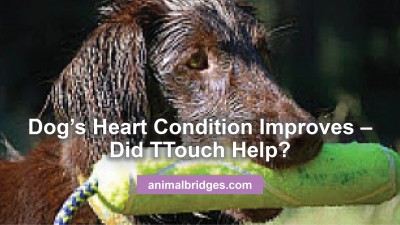 Livie, the flat coated retriever, was diagnosed in December of 2014 and almost died because of Congestive Heart Failure. Her pet parents, Mary Ann Rafferty and Kate Stankis of Minneapolis, Minnesota emailed Elaine. "At the time, she was diagnosed with Dilated Cardimyopathy, an irreversible heart condition whose prognosis is poor. At this time (March 2015), Livie is on medication and doing well."
Mary Ann asked Animal Bridges to communicate with Livie about their concerns. Livie prognosis was not great and they wanted to ask her about her pain, what she wanted to do (a bucket list), how to help her relax, and to let them know when she is ready to transition.

In our animal communication Livie said immediately, "I am a little tired. Otherwise I am good. I know I have this terrible illness or disease. Please tell Mary Ann that we are going to have a great life together and celebrate each day. We have lots of time together. Please let's celebrate the days with happiness and joy. I will be around for some time. I know you can help us too. I am so happy we found you. Your friend at the park was very nice to us to. Thanks so much for talking to me."
Livie was adamant that she was going to be around for a long time. Mary Ann wasn't so sure because her prognosis was less than a year.
Mary Ann needed tools she could use to help Livie be comfortable. During our TTouch® session, I taught her how to do ear slides with Livie. TTouch® Ear Slides help calm a dog, and prevent or reduce shock. Livie needed help on being calm and slowing her respiration. The ear slides help with respiration too.
I started with Ear Slides on Livie. She quickly relaxed and her eyes got very soft. Then she started drooling – huge rivers of drool ran out of her mouth and continued during the entire session.
I asked about her medications and their side effects. After I left, Livie stopped drooling. Later when Mary Ann and Kate did the ear slides, Livie did not drool. They laugh that is "Elaine's magic fingers."  Mary Ann and Kate continue doing ear slides daily to Livie.
Fast forward to June 2015 – Mary Ann and Kate wanted Livie's opinion on having another non-invasive echo cardiogram. I spoke with Livie and here is the communication.
Elaine: …The reason I am talking to you is they are thinking about your care and what is appropriate for you right now. They know you are having a few problems and want to help you as much as possible. So they want your opinion of the next steps in your care.
Livie:    Great. I love when they ask me my opinion. I know they will do what is best for me. Yet is good to be asked.
Elaine: I understand what you are saying. Last fall you had an echo cardiogram where the doctor's team shaved a few spots on your leg and chest. Then they attached some electrodes. From this test the vet can find out how to adjust your medication and see if they need to remove some fluid to make you more comfortable. What do you think of this?
Livie:    I say this is a no brainer! Yes do the electrocardiogram as often as you see fit to make decisions. It doesn't hurt and gives us information. So I have a spotty body for a while. Maybe it will be a new fashion statement.
The next week Livie had the electrocardiogram. Mary Ann emailed, "Livie's echo revealed that not only has her heart condition not worsened, her heart is performing 30% better than at her last echo in December. Dr. Rose indicated that she's typically pleased when she learns that a condition like Livie's hasn't worsened between echo's. Further, she has never seen this kind of improvement. The meds… that Livie's on are really super-effective for Livie."
"While Livie continues to show dialated cardiomyopathy, her horizon is much more promising than we or Dr. Rose could have dreamed."
"To say we are ecstatic would be an understatement. So in Livie's words, she's planning on being here awhile."
Are the TTouch® Ear Slides helping Livie? What do you think? 
Watch how you can use the TTouch® Ear Slides on your pet.