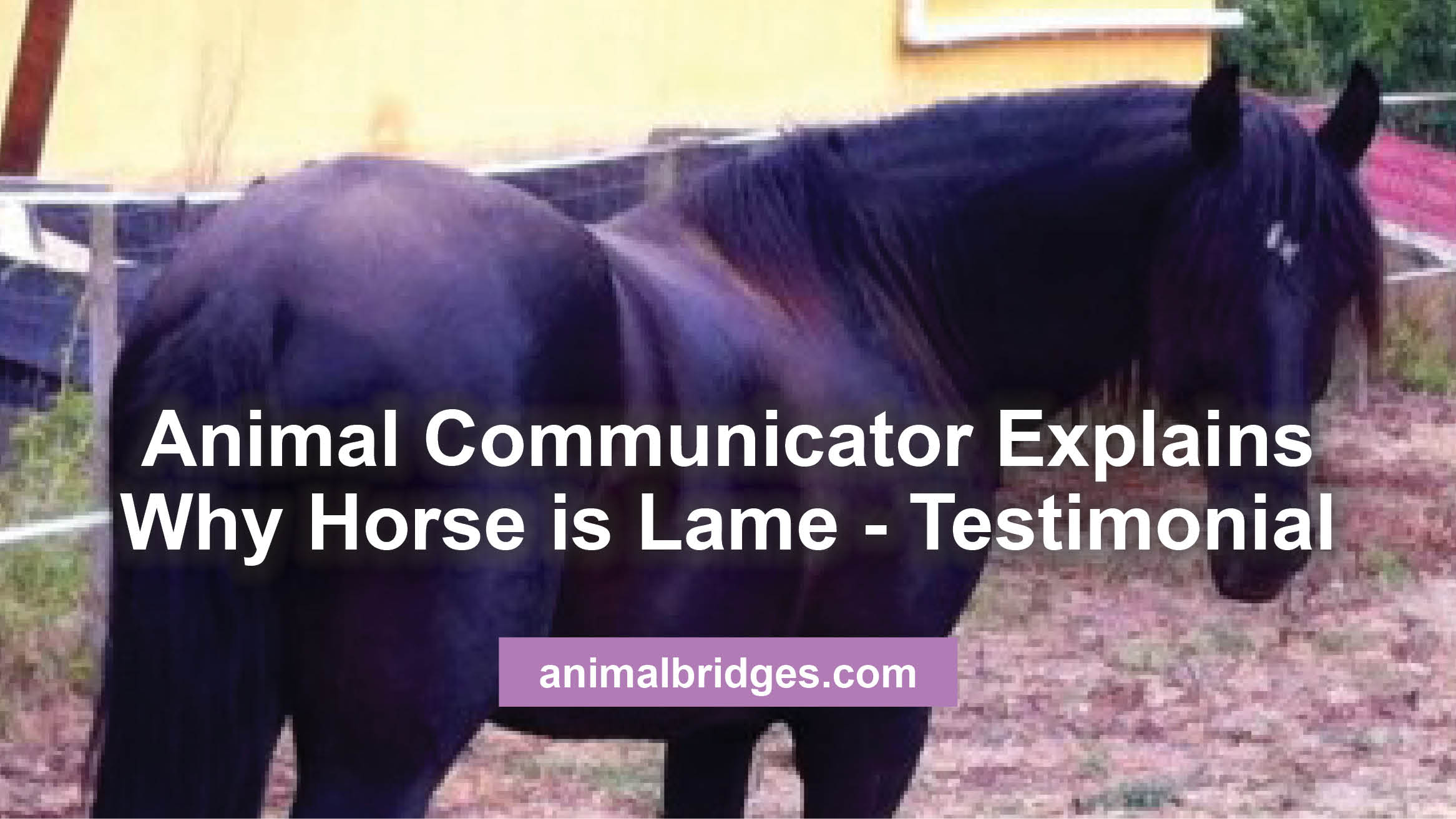 Isabella Allard from Cascais, Portugal wrote the following testimonial about her experience with Elaine the animal communicator from Animal Bridges:
"I was looking for an animal communicator to speak to my horse [Samba] as I wanted to know why he had gone lame and what he needed to get better.
I found Elaine while searching on-line and am so happy I did.
She has a lovely energy and I felt assured she could help. We arranged a session.
Shortly after our call, she spoke with my horse and sent me a transcript via email of their conversation; which truly warmed my heart to read.
The conversation was informative and not only did I appreciate it but so did my horse.
Fortunately, I found out that my horse didn't need a vet; he [said he] would get better with rest and energy healing.
Elaine gave me a few suggestions for what we could to do together while he was recovering.
I have since taken him out to graze in the pasture and he loves it!
Not only is he getting better but our relationship is becoming stronger as well.
I am truly grateful and appreciative of Elaine.
I will be sure to return when I have any issues with my animals that I need clarity and/or healing on.
Elaine comes highly recommended.
Thank you Elaine!"
Partial Transcript of Animal Communicator and Samba
Elaine:     Is it your left hoof?
Samba:    Yes it is.
Elaine:     Okay. Tell me or show me how it hurts. Is it throbbing or is it a sharp pain? (In my metatarsal arch behind I feel achy and a tingling feeling. I feel it on my left foot so I am not sure if it is back or front hoof.) Is there a sore spot or a bruise?
Samba:    It is a bad bruise.
Elaine:     Do the boots help?
Samba:    Yes, the boots help some. If I step wrong it hurts bad.
Elane:      How does it hurt? Is it an ache or a shooting pain?
Samba:    It is an ache.
Elaine:     Okay. Is this why you resist working?
Samba:    Yes. I don't want to walk on it very far. Lunging is really hard on me. I don't like doing that at all.
Elaine:     Because of your hoof or because you don't like lunging?
Samba:    Because of my hoof. (My left foot is really aching and a gentle throb. It radiates out a little on the sole of my foot but stays in the center area.)
Elaine:     Do you need to see a vet?
Samba:     I don't think a vet can help. I think I need rest. Some energy work would help me a lot. I think that would help. Also have Isabella really, really check my foot. There may be something there.
The conversation continued with Elaine, the animal communicator.
Concerned about your horse or animal companion? Schedule a 15 minute free consultation by phone or Skype.