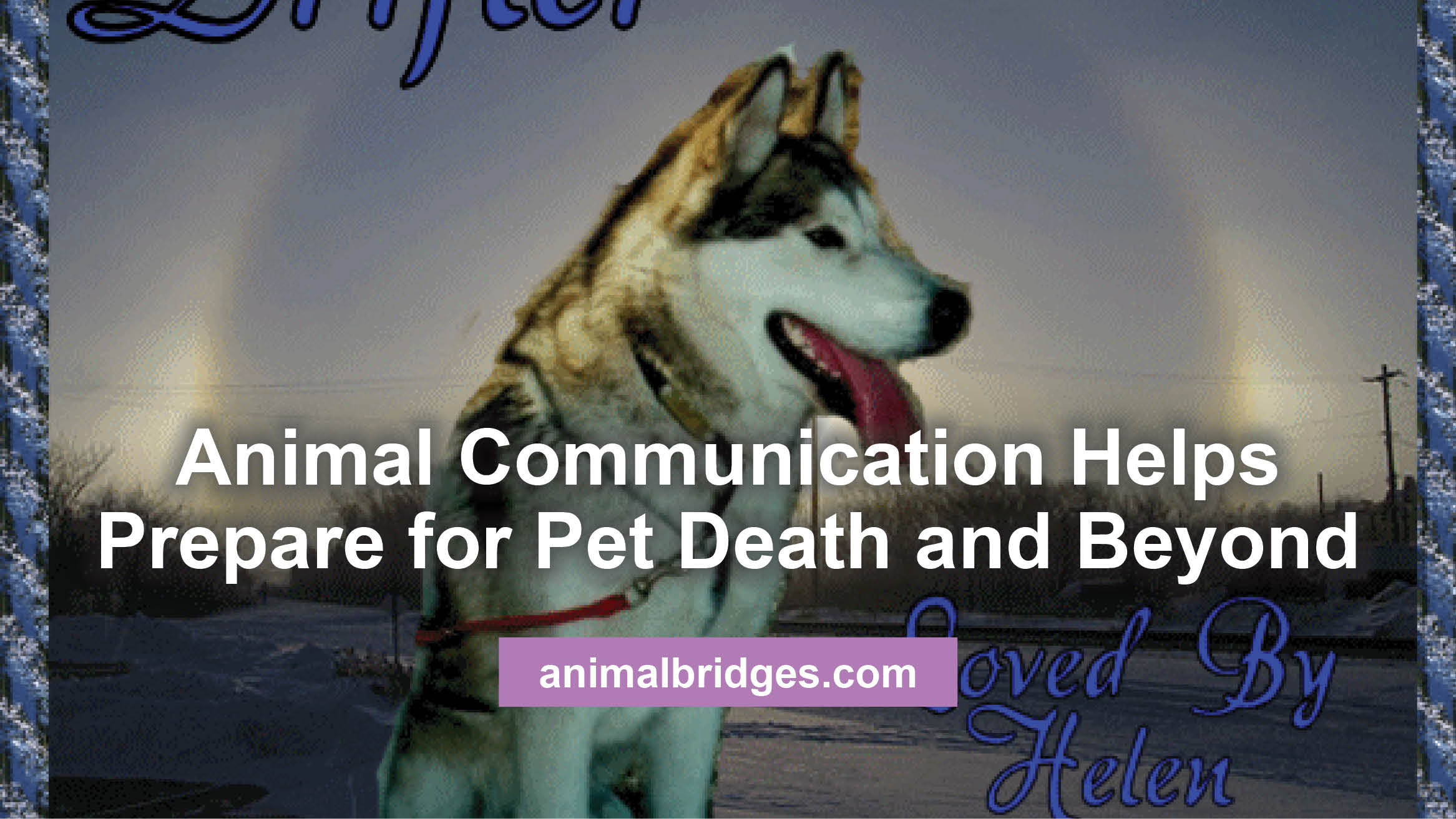 I know how difficult it is to face the end of life questions about your best friend and pet. I took this journey a few years ago with Boomer (see A Dog's Anxiety of Vets and How it Changed Elaine's Life). The decision pet death and euthanasia is never easy. When his time to "cross over" Rainbow Bridge (as animals call dying) came, I was so grateful that I could hear what he wanted to do as his time came closer. My dear friend Helen said I could share Drifter's story with you. You may want to get a tissue ready.
Helen Corlew of Prairie Isle Dog Trekking, who has over 20 working sled dogs, called me to say that Drifter, her "wheel dog" who runs just in front of the sled, was dying of dog cancer. Helen's husband was in a remote part of Alaska and she couldn't reach him. She needed to know what Drifter wanted in his final days.

The following is my first of many animal communications with Drifter.
Drifter connected with me before I was ready to talk with him. At least 6-10 times, he said, "I am not ready!" He was very forceful with this comment.
E:      Drifter I will be with you in a minute.
D:      I'm waiting. I told you I'm not ready. Not ready.
E:      Drifter, I hear you loud and clear. I want to ask you some questions. I am writing this down to tell Helen.
D:      Good. Tell Helen everything.
E:      I will. I know Helen from TTouch. She has talked about you. How are you feeling?
D:      I feel okay. My face is funny (puffy). I feel okay. I'm tired some. NOT READY.
E:      I understand you aren't ready to cross over.
D:      NO! I have too much to do.
E:      You have too much to do.
D:      Yes. Need to help Helen with the other dogs. Need to teach some more.
E:      Helen will be glad to hear that. Do you hurt or feel any pain?
D:      Nothing major. I'm okay.
E:      Tomorrow Helen will take you to the vet. You will lie on a table and they will take pictures of you.
D:      That is good. Tell Helen to wait. I am not ready. I am not ready. I am not ready. Tell her she will know when I am ready to leave.
Helen kept Drifter comfortable and made his special treats to keep him eating. She knew when it was time she would call the vet to help Drifter with euthanasia to cross over. About a month after my first conversation with Drifter, I read an email from Helen that Drifter had "crossed over." The following is what happened moments later. Remember Bob was in Alaska and doesn't know that Drifter's time was close.
Drifter approached me after I read the email on his passing. He was adamant that he talk to me and talk very soon. The following is his message (animal communication) from the other side.
"Thanks, I need to talk to you. Please tell Helen 'Thank you.' Helen I love you. You took the best care of me. You did everything right. It was time for me to go. I had to leave you. Thank you for the walk. I loved it. Yes you are right – I couldn't look at you. (I helped Elaine read your letter). I wanted to go and didn't know how to ask you. Thank you. I can't wait to run in Alaska. [Helen plans to take his ashes with her and the sled dog team when they run in Alaska.] I love the cold and snow. I am free of my sick body. I can run and howl. It is fun. It is freeing. Thank you.
"Please tell Bob I visited him today. He may have felt me touching – nudging him. I hope he didn't fall. I came to say goodbye. I couldn't wait for him. I know he understands (tears in eyes). I love him too. [I talked to Bob a few days later and he said he didn't understand why he couldn't sleep that night. He now says Drifter visited him.]
"Helen, I will be your spirit guide. I will be with you watching over the pack. Like a guardian angel I will protect you, Bob and the dogs. I will wait for Denver [a 15 year old Leader Dog for the Blind who died a year later] and tell her to take her time. I will make her transition easy. It is really easy and very interesting. I just floated up to the light and then looked down. I was free then and out of pain.
"Helen, thank you for guiding me all these years. We had a great run.
"Thank you Elaine for telling Helen everything for me. It made my crossing so much easier.  Thank you.
"Helen I am guiding you. Relax and enjoy all the dogs Work will pass real soon. Then you will do your life work.
"Bye for now. You will hear from me. Bye."
Since this conversation with Drifter, there were other conversations. Over the past years Drifter has helped three other of Helen's dogs cross over.
Every animal I talked to after they crossed over Rainbow Bridge is very grateful for what their people did and always send their love. They are the stars looking down on us.