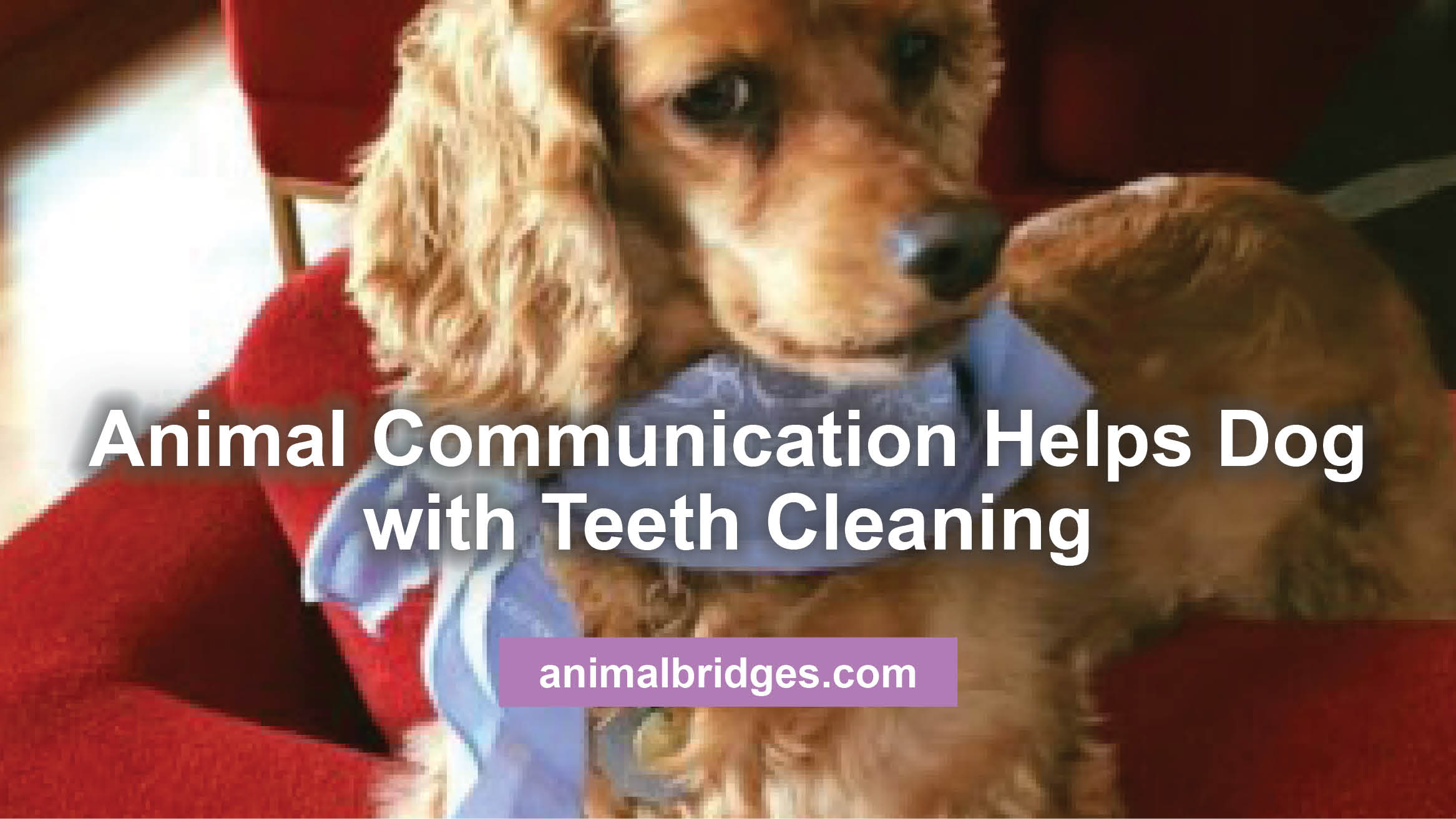 Penny, a Cocker Spaniel, had a dental cleaning appointment in a few days. Jean of Seattle, Washington, Penny's pet parent, contacted Animal Bridges and asked Elaine to have an animal communication with Penny.

Jean wrote Penny was having her teeth cleaned and "may need an extraction or two. She has never had this done before.… That morning she won't be able to eat or drink." Jean continued with Penny's schedule for the day.
"I would especially like to reassure Penny that this is necessary for her health, that I will be back for her, and that it will be OK to be in a cage for a short time."
Penny previously became frantic in a cage because of her past history. She overcame her fears and shyness. Unfortunately her past may be affecting her teeth.
Penny and I had an animal communication the day before her appointment. After some general conversation, we discussed her vet appointment.
Elaine:    Great. Tomorrow you are going to visit the vet and get your teeth cleaned. To do this you won't be eating any treats late tonight or having breakfast tomorrow morning. You will go pick up [your best friend] and then go to the vet. Remember at Lake Harriet Vet [in Minneapolis] you often sat in a crate during the times you were there?
Penny:    Yes, I remember. They were like the crates in my very old home but so much nicer. There I could see people and other dogs. It was fun to visit there.
Elaine:    Well, tomorrow you will be visiting your vet in Seattle. They will put you in a crate and give you a shot to make you tired. Then you will rest until they clean your teeth. You will be very groggy and won't remember any of it. Then when you wake up and are alert, Jean will pick you up and take you home. You will have a little bare spot of your front leg where they give you some medicine and fluids. I know you will be just great. Remember this is a very safe place for you. And Jean will be picking you up about 4:30.
Penny:    Oh okay. Thanks so much for telling me all this. So no snacks tonight and no breakfast tomorrow. Then we go (sigh) on our usual car ride to get my best friend and then head to the vet.
Elaine:    You have it all correct Penny. Do you have any questions about it?
Penny:    Nope, I am good.
Jean texted after Penny's dental cleaning, "Hi Elaine. Poor Penny had quite a day. Her mouth needed lots of work, and many teeth couldn't be saved. She lost 11 teeth! They said she was a great patient, but she's SO happy to be home." We decided to wait and see if Penny needed another animal communication.
The next day Jean emailed, "She has eaten well since she's been at home (scrambled eggs, no wonder!), but she is clearly in pain. She keeps trying to lick away the sutures inside her mouth, and last night was very clingy…"
We decided it was time for another animal communication with Penny.
Elaine:    Hi Penny. It is Elaine.
Penny:    Hi Elaine. My mouth feels funny. I don't feel so great. Jean is cooking me yummy food. My mouth feels funny. I have these things poking me. What happened?
Elaine:    Penny, unfortunately you had some teeth pulled because they weren't healthy. Now they are gone and you will feel spaced between your teeth. What is sticking you is the stitches from where the teeth were removed. It a few days the stitches will start dissolving and you will feel better. How is the food?
Penny:    The food is really good. Jean is a great cook. I am so glad she is cooking for me. Crunchy food doesn't seem like it would be very good right now.
Elaine:    You are correct. Are you having any pain or discomfort?
Penny:    No I am good.
Elaine:    I am very glad to hear that. (She feels very calm.) Penny how are you doing today?
Penny:    I am doing okay. I am a little tired still. I am doing well.
After our animal conversation Penny left her stitches alone and is doing well.
Concerned about your pet? Schedule a free 15 minute consult to discuss your pet and the best options to "bring out the best in your pet."