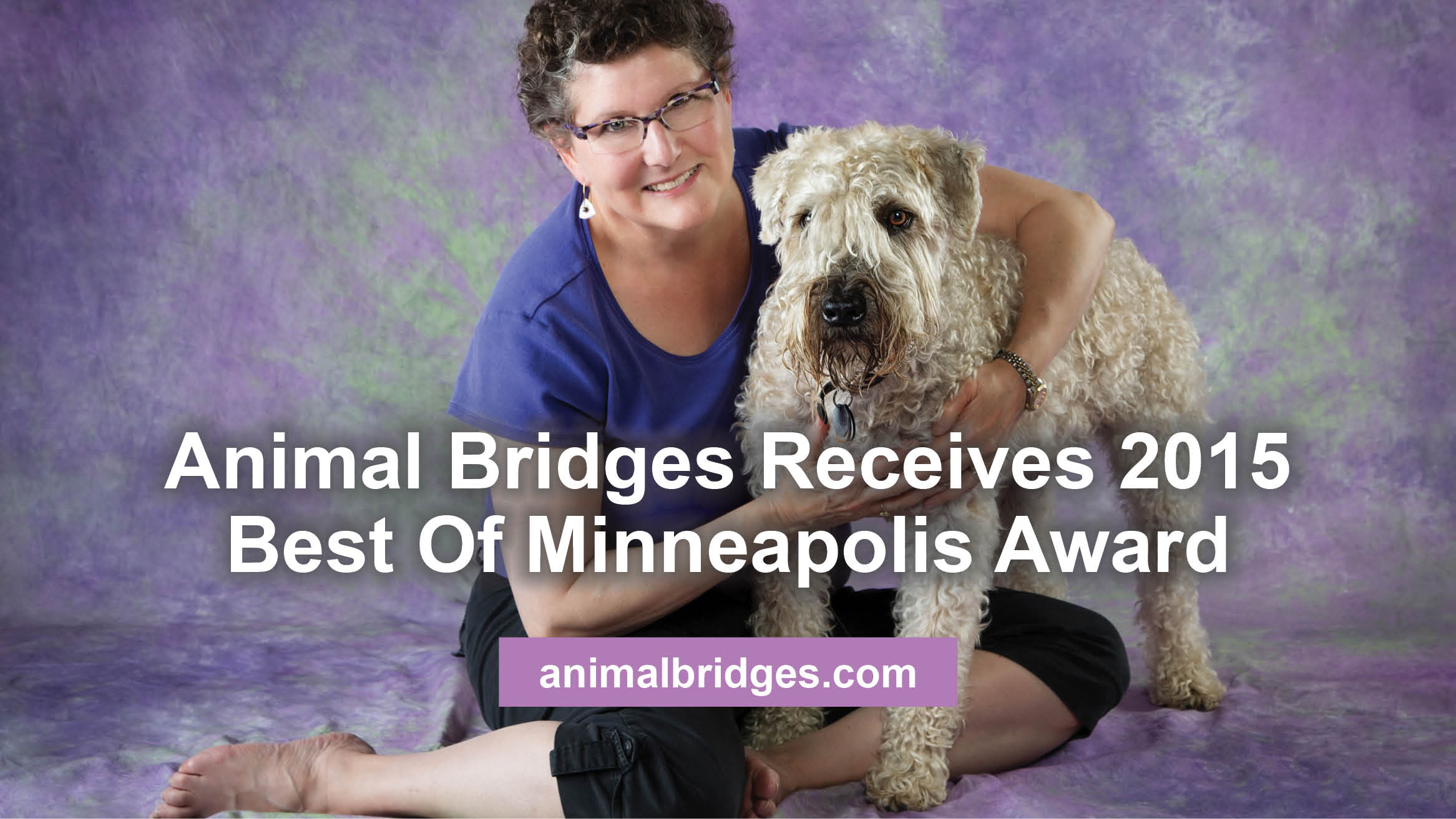 MINNEAPOLIS  May 19, 2015 – Animal Bridges has been awarded the 2015 Best of Minneapolis Animal Communicator Award.
Animal Bridges was identified as a company that enhances the positive image of small businesses through service to their customers and our community. They help make the Minneapolis area a great place to live, work, and play.
"I couldn't be more thrilled", says Elaine. "I love Minneapolis, I've lived here for 38 years and small businesses are such an important part of our community and society. It's a special honor, and it means a lot to me to be awarded for this."
Elaine Garley, founder of Animal Bridges, is a gifted Animal Communicator and Holistic Practitioner who helps animals worldwide with health and behavioral issues. She helps their humans (pet parents) understand their pet companion on a deeper level; so they can provide better care and all can experience a greater bond and quality of life. Elaine is also an engaging public speaker on the topic of animal holistic care and communications.
All clients are well taken care of thanks to Elaine's empathetic, caring nature, and many are thrilled to read an actual transcript of Elaine's communication with their cherished pet. Several have completely recovered from serious illness or surgery and successfully eliminated extreme medications; while others have been safely helped crossing over out of this life. Elaine says, "They all have a special place in my heart."
Various sources of information were gathered and analyzed to choose the winners in each category. The 2015 Minneapolis Award Program focuses on quality, not quantity. Winners are determined based on the information gathered both by the Minneapolis Award Program and data provided by third parties.
CONTACT:
Animal Bridges, Elaine Garley
Email: Elaine@AnimalBridges.com