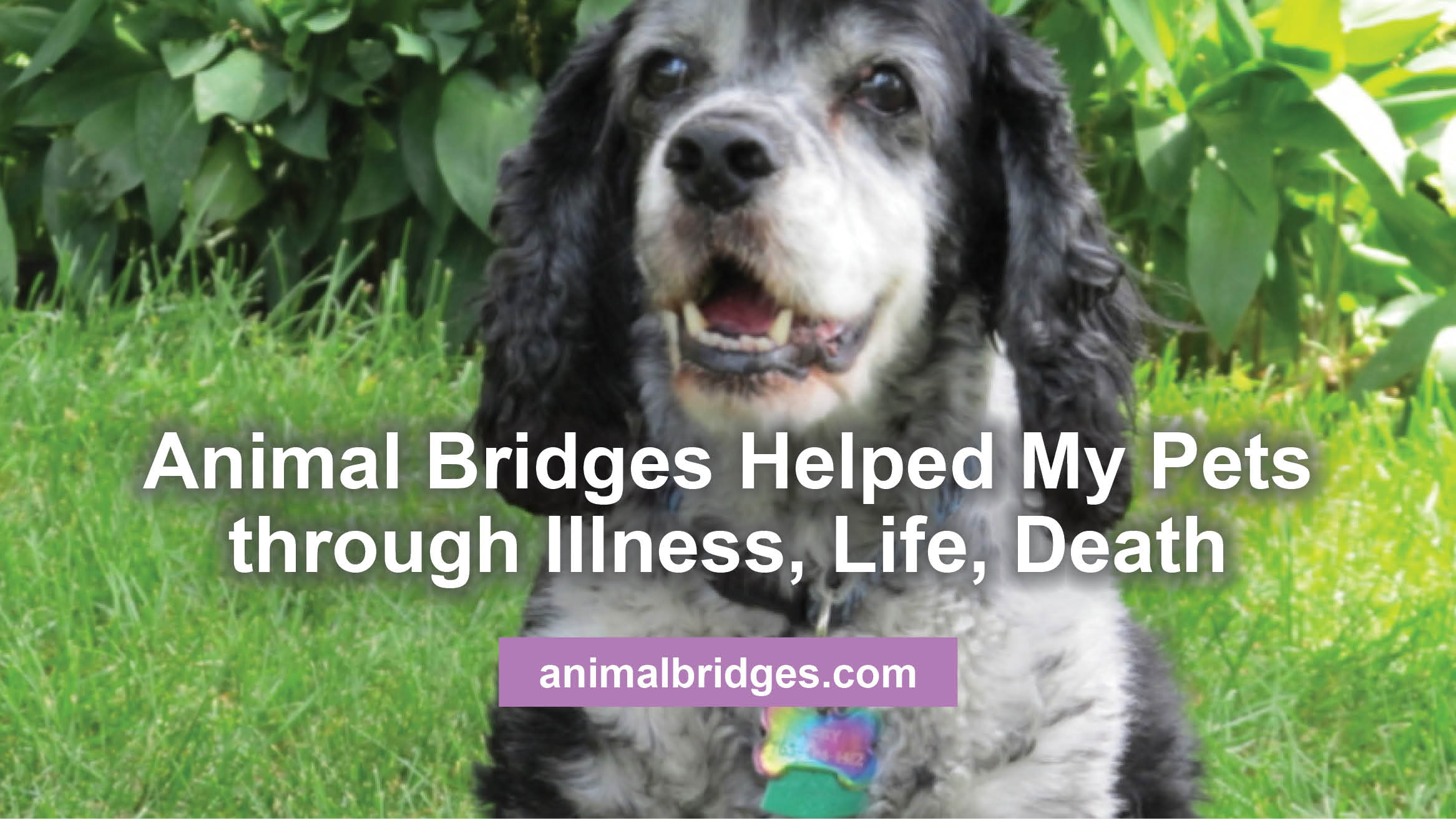 The following testimonial was posted on SideWalkDog.com on November 24, 2014 by Becky Nelson of Brooklyn Park, Minnesota.
"I first contacted Elaine in 2012 when I discovered my cat Katie had cancer. Elaine assisted Katie through several Healing Touch for Animals® (HTA) sessions and with several animal communications. The communications and support from Elaine during this difficult time gave comfort to Katie, in addition to me and my family.
Two months after Katie's passing, we discovered a
lump on our senior dog Abby's neck
– it was lymphoma and tongue cancer. It was Abby's turn to be supported by Elaine's HTA sessions and animal communications.
In 10 months we lost two dear pets. Elaine was our rock!
On Abby's angel day, Elaine come to our home and supported Abby with one last HTA session and then led a celebration of life before the vet came to our home. Elaine stayed with us until Abby transitioned peacefully.
Recently, I've had to contact Elaine on two occasions when there was an emergency. First when our cat Max was not feeling well on a Saturday after my vet had closed. Max told Elaine, "I want to go to the vet!" (If Max was asking to go to the vet, I knew he was not feeling well!) He was having a hard time going to the bathroom. A trip to the emergency vet concluded he almost had a full blockage – I am so glad we didn't wait until Monday morning to see our regular vet!
The second time was just last week when
my three teenagers called me at work in a panic
. When they got home from school our
dog Sammy
was excited as usual to see the kids. He was running around all excited and then all the sudden
he was yelping and crying
in pain, dragging his body. They were not sure what had happened.
After I heard Sammy crying in pain over the phone and feeling helpless at work…who did I call before the vet? Elaine! Elaine first calmed me down and reminded me to breathe. She then walked me through a TTouch ear stroke to have my children do on Sam to help with his pain and calm him down.
Elaine was then able to communicate with Sammy and calm him down and took him through inhales and exhales – breathing through his pain.
E: Sammy, please breathe with me. Good inhales and exhales. I need you to breathe deep. This will help you manage the pain better. How does this feel?
S: Better. It feels better. Sammy went on to explain he was being silly and playing around and jumped off the sofa and landed wrong.
S: It hurts. It hurts. My back and both legs (Sam had landed with both back legs spread apart).
While Sammy and Elaine talked, I called the vet and made an appointment.
Elaine followed up the next day with a few tips, including, a few Young Living oils to use on Sam in addition to a TTouch stroke.
Elaine has helped several of my friend's pets and co-worker's pets and I continue to recommend her whenever I hear someone has a pet that would benefit from her support.
One more thing, Elaine provides a complete transcript of her conversation with your pet which is so helpful!"