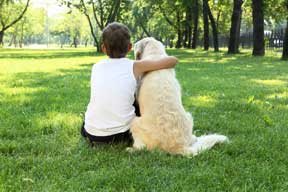 "Thank you for your endless guidance and insight as we dealt with our dog's sickness. You were there for us in moments of triumph and moments of trouble. While it saddens my heart that she had to go, it brightens my soul knowing that we were able to be connected with our dog during this difficult time." --Helen M, Baltimore, MD
"Oh Elaine thank you so very much! What a gift you have given us [communication from across Rainbow Bridge with Mo].....I can never repay you....there are no words for how I feel right now.....I'm so thankful he knew we were with him and is at peace. I have no doubt there will be another dog in the house...." --Karen Wilson, Vinton, VA
"Elaine @ Animal Bridges is the best!  She has helped me on 2 separate events.  The first time was when my two old dogs passed 
within 3 weeks
 of each other.  She spoke with them and gave me peace.
The second time was this week.  Our 10 year old rescue pup has started to emerge from her shell after 2 years of living with us,  and she is becoming very vocal.   She has started barking for every need.  I asked Elaine to tell her that she doesn't need to bark for attention, just bark one time and wag her tail for the same result.  The day Elaine spoke to Stella, she quit barking when we return home.  She looks at us - very alert - and wags her tail.  Three days in a row.  I'm amazed.  Thank you Elaine!"
--Kathy Ekberg, Minneapolis, MN
"Thank you so much!!  That is so comforting [to read Zoe's words from across The Rainbow Bridge].  I was such a skeptic before - btw, the sunshine just lit up outside as I read this.  I'm sure I will contact you again in a few months as I begin my next stage of healing...  The comments were so spot on, particularly the ones about Dexter & Papá— I will treasure this forever, Elaine."
--Rosa P, Glendale, AZ
"Wow, I thought your conversation with Nilla was "spot-on".  Great capture.  Thanks so much." --Tim Curley, Bremerton, WA
"I have seen Elaine's beautiful, heart centered work. She has an amazing, very intuitive connection with animals. If you want to know what your pet is thinking... no kidding... Elaine is the "Pet Service" you have been looking for!" --Claire Nelligan, Minneapolis, MN
"Although it was the right thing to do, my husband and I were completely heartsick after putting our beloved senior dog to sleep last week. The conversation Elaine had with Biscuit a few days later soothed our souls and provided some peace of mind. Although we both cried as we read it, we also chuckled occasionally, too: Biscuit sounded exactly like herself. Knowing that she was no longer in pain, that she welcomed our help in passing over, and that she not only knew how deeply we loved her, but that she loved us just as profoundly... we couldn't have asked for more. The transcript we received of Elaine's conversation with our dog was a tremendous comfort in this tremendously difficult time, and we cannot thank her enough." --Betsy and John Lane, Skokie (Chicago), IL
"This is beautiful [animal communication transcript]! Thank you Elaine. Vinnie's thoughts made me cry (with joy and gratitude). He is my little buddy. I look forward to talking to you again." --Diana Grzeskowiak, Waconia, MN
"One of my kitties was having issues with using the litter box. She would sometimes find other places in the house to use. Problem was, I could never figure out why. Her daily routine was always the same. I had a 15 minute consultation with Elaine and she gave me some pointers and ideas to try. Very helpful! Thanks, Elaine!" --Sue B, St. Peter, MN
"No digging since he [Riley, the dog] last talked to you!!!" --Amy Horne, Richfield, MN