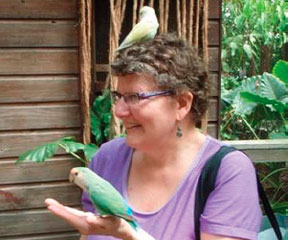 Elaine Garley is a gifted Animal Communicator and Holistic Practitioner who helps animals worldwide with health and behavioral issues. Through her company Animal Bridges, she helps their humans (pet parents) understand their pet companion on a deeper level; so they can provide better care and all can experience a greater bond and quality of life. Elaine is also an engaging public speaker on the topic of animal holistic care and communications.
All clients are well taken care of thanks to Elaine's empathetic, caring nature, and many are thrilled to read an actual transcript of Elaine's communication with their cherished pet. Several have completely recovered from serious illness or surgery and successfully eliminated extreme medications; while others have been safely helped crossing over out of this life. Elaine says, "They all have a special place in my heart."
Elaine always enjoyed a special connection with animals, and finally pursued her lifelong dream of working with them in 2007, after a successful career in various business leadership positions including Lead Project Analyst and Project Manager. Her personal experiences of seeing an animal's fears transformed, then transforming her own beloved pet's behavior were all it took for her to know this was her path. She's motivated by the rich relationships and the joy and wonderment each time solutions are found.
As a volunteer with the Animal Humane Society Training School, Elaine helped dogs and their people from puppy classes up to preparing for the AKC Canine Good Citizenship (CGC) Test. One of her favorite past times includes walking Hobbes, her Wheaten Terrier, and enjoying the city and nature. She also likes knitting, reading, and traveling. Elaine loves spending time with her husband, John and Hobbes at home, and exploring roads less traveled.
Degrees:
B.A., American Studies, University of Maryland
MAOL, Masters of Organizational Leadership, St. Catherine Un iversity
Awards:
Dale Carnegie Training® Certificate of Achievement Award Human Relations
USWEST President's Award in Wholesale Organization
First Place for "Dark and Stormy Night…" Short Story – 201 1 Petlitzer Prize
Nominated for 2015 Destined to Win Award and 2015 Connector Award by Women in Networking
Recipient of 2015 and 2016 Best of Minneapolis Animal Communicator Award by Minneapolis Award Program – 2 consecutive years
Memberships:
Tellington TTouch Practitioner Guild
Healing Touch Professional Association
PetPAC – Elected Board member from April 2011 to January 2015
HOG member – Harley (Davidson) Owner Group member from 2002 – 2012
Women in Networking
Certifications:
Healing Touch for Animals® Certified Practitioner
Tellington TTouch® Companion Animal Practitioner 1
Specialized Trainings:
Animal Communication

Assisi International Animal Institute Skills Empowers W orkshop
The Gurney Institute of Animal Communication – several workshops
Various animal communications trainings

Bach® Foundation Training – Bach Flower Essences

The Bach® Foundation Distance Learning Program – Level 1
Bach® International Education Program – Level 2

Energy Medicine Certificate by Cyndi Dale
Healing Touch for Animals® Program

Healing Touch for Animals® Levels 1 – 4
Healing Touch for Animals® Advanced Proficiency Training

Healing Touch International Inc, HTI Healing Touch Level 1 (human)
Holistic Animal Care Training

Small Animal Acupressure & Traditional Chinese Medicine, Tallgrass Animal Acupressure Institute
Spirits in Transition™ Animal Hospice Care Seminar

Tellington TTouch® Companion Animals Training

Tellington TTouch® Companion Animal Sessions 1 – 6
Tellington TTouch® Companion Animal Advanced Trainings
Tellington TTouch® Companion Animal Trainings as Assistant (over 6)

Tellington TTouch® for You (Human) Training
Spiral of 5ths Tuning Fork Training – Basic and Advanced
Spiritual and Psychic Development with Echo L. Bodine