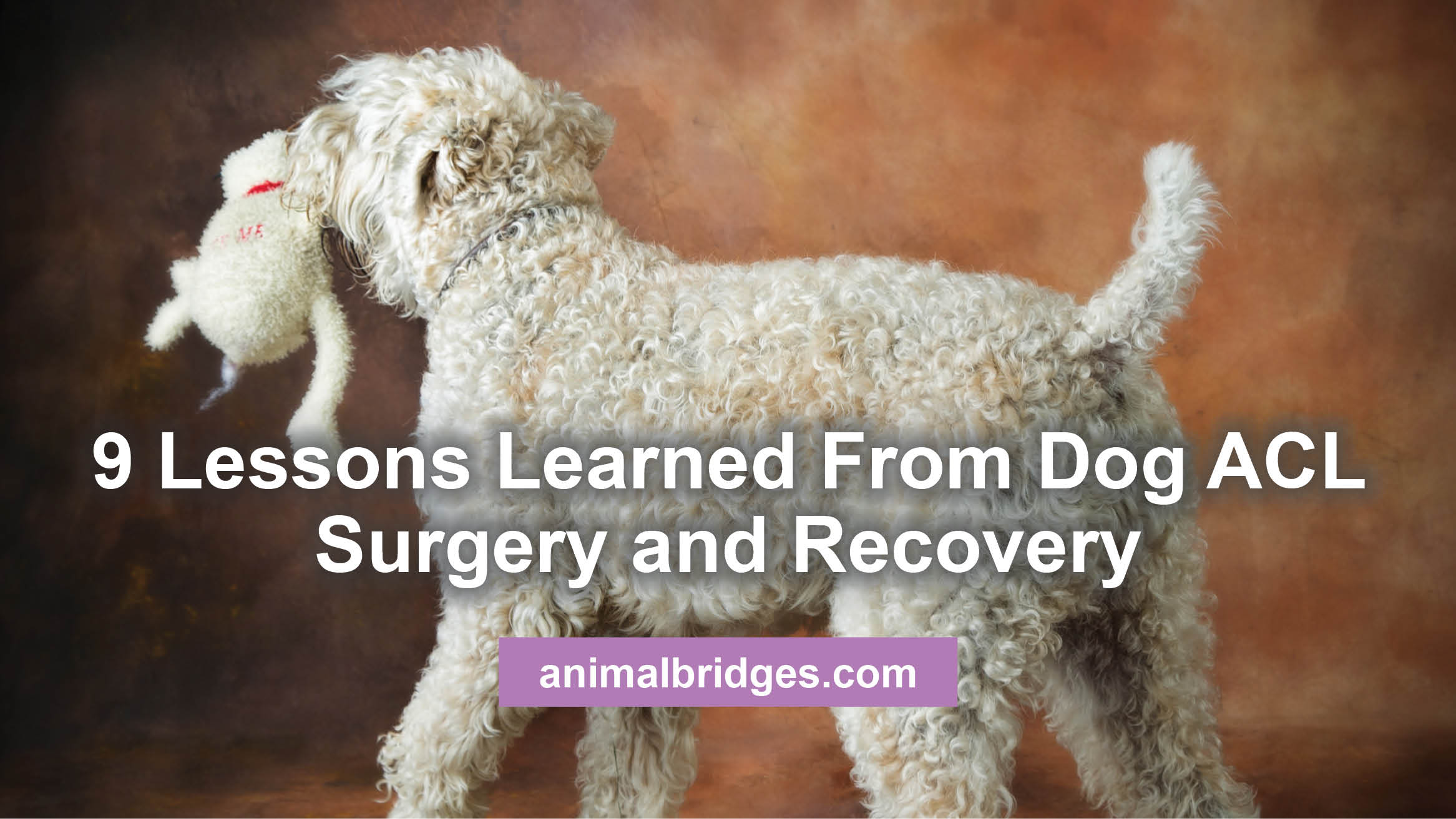 Updated June 19, 2017
What did I learn about Hobbes' dog ACL surgery and recovery? Reflecting, I learned so much. At times it didn't seem like it. I hope these lessons help you if you ever need them.
Order "equipment" before surgery. After dog ACL surgery Hobbes needed support while standing and walking. The GingerLead® was perfect. I am so grateful for the client recommendation. It is a padded sling with adjustable handles. It attaches to the dog's collar or harness so it stays in place. Immediately after dog ACL surgery, we walked Hobbes to the car and used it for at least 6 weeks post surgery. We wish we adjusted it and practiced with Hobbes walking in it before surgery.
It is okay to cry! I've left Hobbes at the vet for dental cleaning and cyst removals. This time was different – he wouldn't recover in an evening. As I was leaving the vets' office after dropping him off for dog ACL surgery, the staff asked if I was okay. I said "Yes." As I got to the car, the tears started to flow. It was different. Then a sob came. I knew Hobbes was in great hands. Still the tears came. I would see him again at 4 pm.
Prepare a recovery space. Hobbes needed to be in a quiet, confined area with nothing to jump on. Since he loves his bed in the den off the living room, we added a gate to the entrance. We covered the hardwood floor with a rubber-backed rug. I decided to sleep with him until his stitches were removed. My bed consisted of 2 sofa cushions. Then moved his food dish next to his water dish. We were ready for surgery.
Don't panic! As John and I drove Hobbes home, we stopped at a favorite bathroom spot. He didn't poop. We were concerned. The next day the vet tech reminded me Hobbes had fasted the night before surgery and may not go for a few days. Dah!
Be creative. Hobbes didn't wear a cone for first 2 days because he had a bandage on his leg. The first night with the "party hat," we didn't sleep well. The next day John said, "Since he is used to the Body Wrap, can you warp his leg?" The Body Wrap would bring attention to the leg – not the solution. I found a long sleeve tee shirt and cut off the shoulder and sleeve in 1 piece. Then I cut 2 straps from the hem and sewed them on. When with us, he wore the sleeve on his leg. The straps were attached to his harness. He left the stitches alone.
More information (added June 19, 2017) on Hobbes leg covering. The photo has  a close up of the sleeve. The straps are the hem of the long sleeve tee shirt sewn on by hand. In the above photo, Hobbes is resting in his harness. The strap on his hip goes over to the top of the harness. The strap on the inside of his leg goes under his belly and to the harness. Just try it tied in different positions.
Stuff happens. A week after dog ACL surgery, I had left Hobbes alone to go to a meeting. He was in his den with the gate up and "party hat" on. All was well, I thought. I got home to find Hobbes standing in the middle of the living room with his tail wagging! I freaked. Did he hurt his leg? Do I need to get it x-rayed? I put him back in the den. Then I went upstairs to change. The bath mat was in the hall. He went upstairs to get a drink from a favorite water dish. Damn! He went up and down the stairs. I was in panic mode. While talking to John for the second time in 5 minutes, I remembered he had a physical therapy appointment in an hour. He was fine and the vet tech giggled at how "smart Hobbes is." Yes I finally exhaled! I hadn't secured the gate up correctly!
Hindsight. People ask "How did Hobbes tear his ACL?" We don't know. Looking back, I realize last winter during walks, he wasn't sitting at corners. He was slower to sit. He wasn't running fast as much. He was trotting more. Then suddenly he was carrying his leg up. The vet said it could be a tear. We went to Twin City Animal Rehab and Sports Medicine and tried to avoid surgery. Then Hobbes twisted his knee. He needed surgery. A few days after surgery, Hobbes was back getting laser treatments and soon using the "spa."
Now Hobbes is back 110% after his dog ACL surgery and his leg muscles are in the best shape.
If you have any concerns as you navigate healing with your pet, schedule a free 15-minute phone/Skype consultation with Elaine.